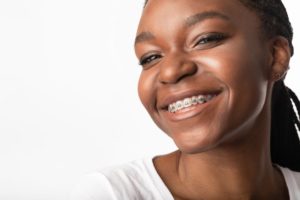 The holiday season is on your doorstep! It's a magical time of the year that consists of gift-giving, spending quality time with loved ones, and (of course) eating great food. If you're currently undergoing orthodontic treatment, you might not be as excited as others to indulge in all the seasonal meals and treats. Instead, you're probably more concerned about food getting stuck in your braces and sending you straight to your orthodontist in Plano. Fortunately, you can prevent that from happening with these tips for eating holiday meals with braces.
Take It Easy
Patience is the key to many things in life, including eating holiday meals with braces. Although you can indulge in most of your favorite foods while undergoing orthodontic treatment, you should take it easy with certain items. Make sure you chew slowly and carefully. If it helps, you can try cutting your food into smaller pieces for easier consumption. Avoid taking big bites of anything or scarfing down your food. It's important to take things slow and steady!
Follow a Soft-Food Diet
An excellent aspect of the holiday season is there's usually a variety of soft and hard foods to choose from during parties, events, dinners, and other festivities. If you wear braces, it's a good idea to opt for the soft food selections first. Some popular options include mashed potatoes, carrots, yams, soups, cream-based pies, and pudding.
Cut Your Food into Bite-Sized Pieces
Certain meats like turkey and ham, as well as some one-bite appetizers, can be challenging for people with braces to consume. If you want to indulge in these foods, make sure you cut them in half or in bite-sized pieces instead of trying to eat the entire item in one go. Whenever possible, opt for foods that are soft and easy to chew so you don't have to worry about cutting them into smaller chunks.
Chew Your Food with Caution
While eating your favorite foods, make sure you chew slowly and carefully! It's a good idea to bite with the side of your mouth instead of using your front teeth. Also, do your best to exercise caution when trying and tasting different foods. You could get a surprise like hidden nuts or large chunks of meat or vegetables when biting down on your food.
Pack a Dental Kit
Don't forget to take proper care of your smile amid all the holiday fun and excitement! It's especially important for patients undergoing orthodontic treatment to continue to practice good oral hygiene. If you're going to be away from home, you can stay on track during your trip by preparing a dental care travel kit. Make sure it includes essentials like a toothbrush, fluoride toothpaste, dental floss, and mouthwash. Do your best to clean your teeth shortly after eating, even if it's just a snack.
Your smile doesn't have to suffer this holiday season. By following the tips outlined above, you can avoid having problems with your orthodontic treatment while celebrating the holidays with your loved ones!
About the Author
Dr. Tamara Jones earned her dental doctorate from Texas A&M and went on to complete her master's and Certificate in Orthodontics from The University of Texas at Houston. She is a member of the American Dental Association and a Diamond Status Certified Invisalign Provider (top 1 percent in America). Dr. Jones will be happy to provide further tips on holiday eating during your FREE orthodontic consultation. Schedule one on her website or call (972) 732-1400.