Invisalign Clear Aligners – Plano, TX
Advanced Orthodontic Appliances
Made Just For You
What if we told you that in order to straighten your teeth, you don't even need braces? Many people believe that this is too good to be true, but the reality is that Invisalign clear aligners in Plano do just that. This treatment utilizes a series of customized aligners that gently and strategically shift your teeth into alignment while correcting bite problems. The end results are phenomenal, and you'll still get to maintain your confidence and appearance throughout the entire treatment. To schedule a consultation and learn more about orthodontic treatment with Invisalign clear aligners in Plano, TX, contact our orthodontic office today!
Why Choose Willow Bend Orthodontics of Plano
for Invisalign Clear Aligners?
Customized Orthodontic Treatment For Patients of All Ages
16 Years of Experience Creating Gorgeous Smiles
Dental Insurance Accepted & 0% In-House Financing
How Does Invisalign Work?
Invisalign utilizes the same basic tools as traditional braces to straighten teeth. Using a strategically determined amount of force, your aligners will place pressure on crowded, gapped, and crooked teeth to help them lay flush with one another. The trays are made from an FDA-approved clear plastic that's comfortable, discreet, and customized to fit your unique dental structure. All you have to do is slide them over your teeth and take them out whenever you eat, drink, brush, and floss. After your treatment is completed, you'll notice amazing results.
The Amazing Benefits of Invisalign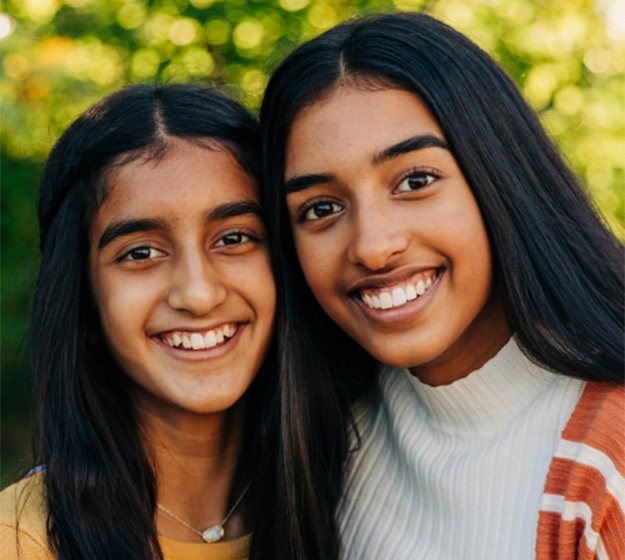 Invisalign in Plano is such a popular option among teens and adults because they offer a variety of unmatched benefits. Some of these include:
Discretion: When someone has braces, it's easy to tell, but Invisalign aligners, are unremarkable because they blend in so well!
Enhanced Comfort: Each set of aligners is made from a smooth plastic instead of metal that can irritate your oral tissues. This means that you won't have to carry orthodontic wax around with you all the time just to stay comfortable!
Convenience: Whenever you want to eat or brush and floss your teeth, all you have to do is remove your trays. This allows you to go about your daily life as you did before you started treatment.
Invisalign Teen: Making Teens & Parents Smile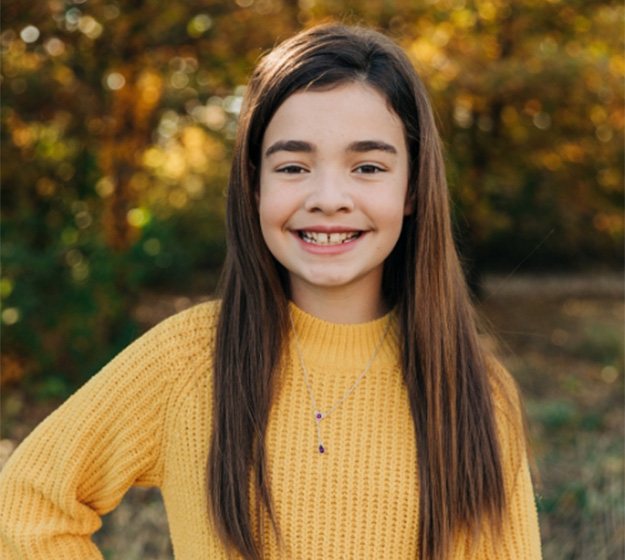 Teenagers nowadays do not necessarily want traditional braces to straighten their teeth. Whether it is sports, social gatherings, or other extracurricular activities, metal brackets and wires can get in the way and cause low self-esteem. However, with Invisalign, they, too, can enjoy the process of achieving a straighter smile without the spotlight shining on their orthodontic work. At Willow Bend Orthodontics of Plano, Dr. Jones, Dr. Hanson, and their team are here to provide step-by-step instructions to ensure optimal success and long-lasting results. Contact us today to schedule an appointment and learn more.
How is Invisalign Teen Different from Regular Invisalign?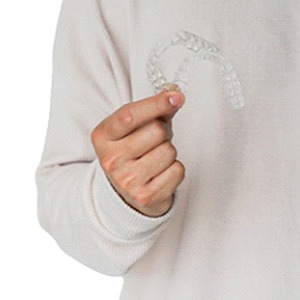 Invisalign TEEN is specially designed to help teenagers straighten their smiles while easily keeping up with their treatment. Between school, sporting events, band, and other academic events, it can be easy to forget to change out your trays.
A few of the unique ways Invisalign Teen differs from regular Invisalign trays include:
A small indicator dot at the back of each TEEN aligner will gradually fade to let you and your child know if they're on track with their treatment and when to switch out their trays.
The TEEN treatment also includes free replacement trays in case one ever gets lost or broken. This is a helpful realization since many teens can often forget or lose trays while at school, on the field, or out with friends.
Which Teens Are Good Candidates?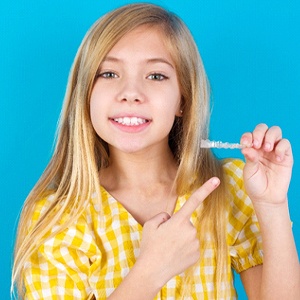 The only way to determine if your teenager is eligible or a "candidate" for Invisalign TEEN is to schedule a consultation with their orthodontist. Dr. Jones or Dr. Hanson will carefully examine their smile to determine if they have overcrowding, gapped teeth, or a bite alignment issue.
It is also important that during the consultation appointment, your teen understand the responsibilities that come with wearing Invisalign should they be cleared for treatment. Not only must they be willing to wear their aligners for the designated timeframe each day (20-22 hours), but they must also take proper care of their aligners to avoid delays in treatment. It is also helpful if your teen is excited about the idea of wearing clear aligners.
Benefits for Teenagers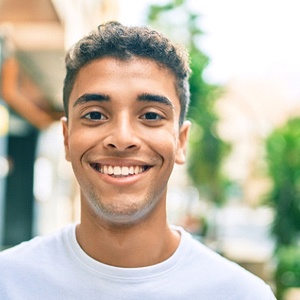 With Invisalign TEEN, you can expect there to be many great advantages for your child, including:
Fewer food restrictions – Instead of worrying about which foods might break a wire or bracket or get stuck between braces, your teen can simply remove their trays and eat the foods they love!
Easy maintenance – Cleaning the clear trays only requires a soft-bristled toothbrush, clear soap, and lukewarm water. There are no additional cleaning systems required unless you prefer to purchase the Invisalign Cleaning Crystals.
Faster results – Unlike traditional braces that can take several years to achieve results, Invisalign TEEN can have your child seeing a straighter smile in less time. Although no two cases are the same, the timelines will vary.
Improved confidence – Once your teenager begins to see the positive changes in their smile, they will start to feel more confident in their appearance.
Continuing to engage in physical activities – Although customized mouthguards can be created to protect metal braces, your teen can remove their aligners prior to a game or concert and worry less about potential damage to their trays. A mouthguard should still be worn, but it will be more to protect teeth and gums, not the clear aligners.
Invisalign for Adults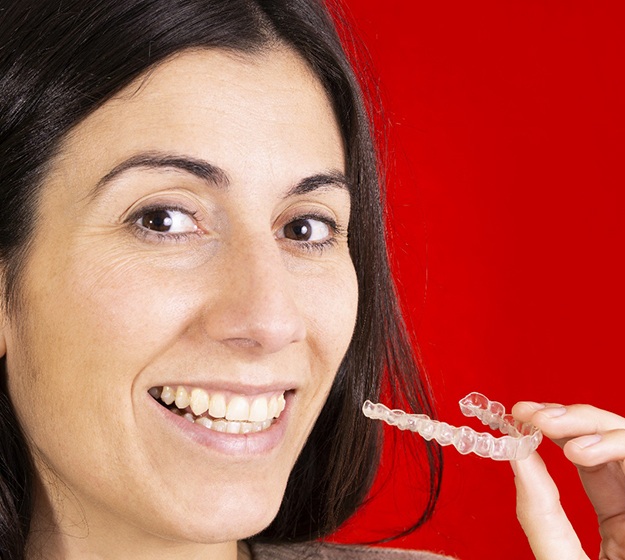 Metal braces are a great way to correct misalignment issues. However, many adults don't wish to show off a mouthful of metal brackets and wires throughout the duration of their orthodontic treatment. Fortunately, Invisalign is available to help adults achieve the same beautiful results without taking away from the appearance of their smile in the meantime. To learn more about Invisalign and how it can help you achieve your smile goals, give us a call to schedule your consultation.
Learn More About Invisalign for Adults
Invisalign® vs. Braces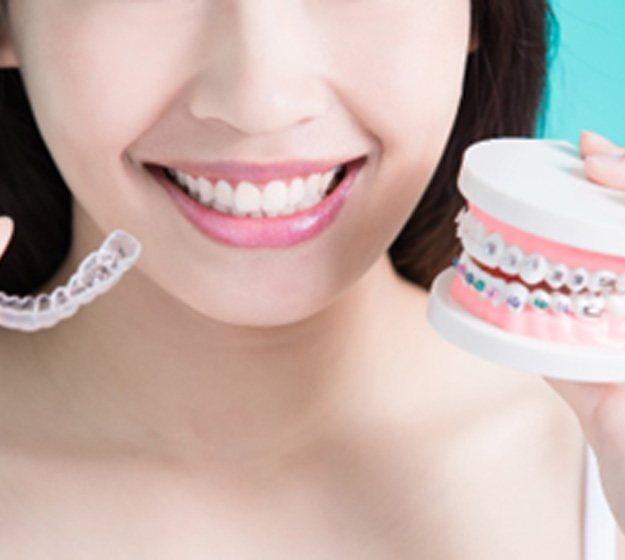 Traditional braces have been, and continue to be, a reliable, effective, and safe orthodontic treatment. Since Invisalign® introduced its clear aligners a little over two decades ago, the two have been compared time and time again. As a patient, it's helpful to know how they are similar and how they are different so you can confidently decide which one is right for you!
How Are Invisalign® and Braces Different?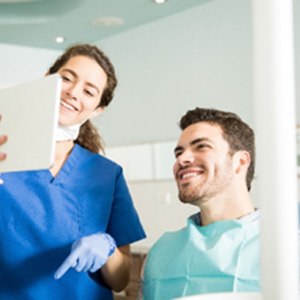 Although they are both orthodontic treatments, Invisalign® and metal braces really couldn't be more different. Here are a few distinctions between these teeth-straightening solutions:
Aesthetics – One difference that our patients in Plano are acutely aware of is that Invisalign® uses discreet, see-through aligners while traditional braces use metal brackets and wires.
Treatment process – To straighten your teeth, traditional braces are adjusted every few weeks by your orthodontist. With Invisalign®, you'll be given a series of trays that guide your teeth into their properly aligned positions.
Timeline – In some cases, traditional braces can take 24+ months. Invisalign®, on the other hand, boasts a 12 to 18-month average treatment timeline.
Oral hygiene – With traditional braces, you need to brush each bracket and floss around every wire. With Invisalign®, you can simply remove your trays and complete your oral hygiene routine as usual.
Diet – Popcorn, whole apples, and raw nuts are just a few foods that you can't eat with traditional braces. Fortunately, you can eat whatever you'd like with Invisalign® – just make sure to remove your aligners first!
How Are Invisalign® and Braces Similar?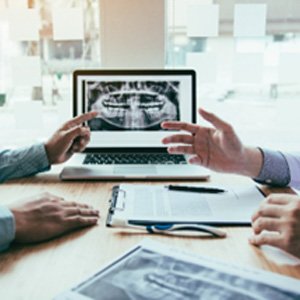 Of course, Invisalign® and traditional braces have their similarities too. They are both proven, reliable, and safe orthodontic treatments that can address everything from crooked teeth to open bites. Plus, they have helped millions and millions of people achieve the straight teeth, aligned bites, and beautiful smiles they've been desiring.
How Do I Know Which One Is Right for Me?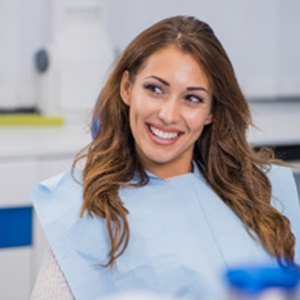 Determining which one is right for you starts with a consultation with our talented Plano orthodontists! Once we take X-rays, conduct an oral exam, and learn more about your lifestyle and smile goals, we can make a recommendation on which one is best for you. For example, if you are struggling with severe malocclusion, then traditional braces are likely the ideal solution, at least at the start of your treatment. They are also great for patients who are prone to forgetfulness and might accidentally misplace their aligners. On the other hand, Invisalign® may be a better fit for patients who have mild to moderate cases of misalignment and have a job where their smile is front-and-center. As always, our team will review the pros of each treatment option and help you determine which one is best for you.
1% Diamond Invisalign Provider
Want the Best? Choose the Best Provider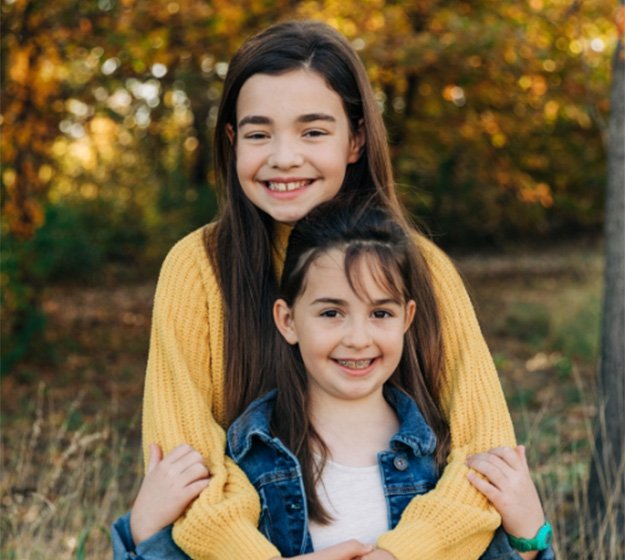 There are many dentists who offer Invisalign services, but they typically only treat about 10 patients per year. Only 1 percent of Invisalign providers achieve Diamond status, which means that they have served more than 800 patients over their career and continue to treat 200 every year. Here at Willow Bend Orthodontics of Plano, we're proud to say that Dr. Jones is in the prestigious top 1 percent Diamond providers across the country. Ultimately, this means that you can know long before you actually start treatment that you will love the results and receive the best possible care from some of the most qualified hands in the business.
Understanding the Cost of Invisalign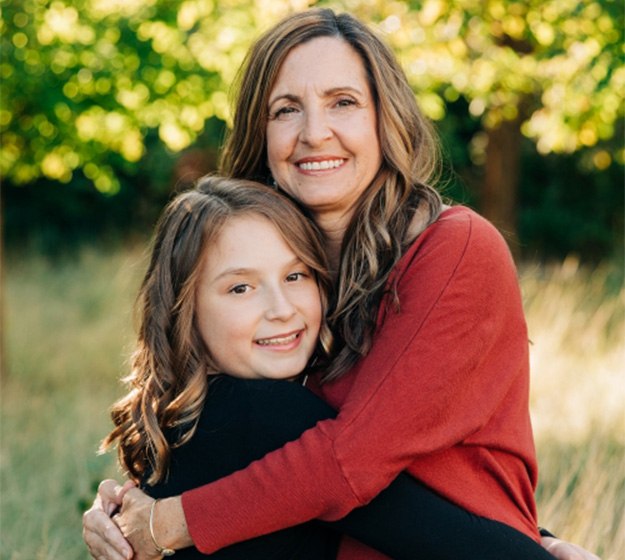 The only way you can better understand the cost of Invisalign in Plano is to schedule a consultation with Dr. Tamara Jones. As a trusted orthodontist in the area, she and her team will go to great lengths to customize your treatment and make sure your results are nothing short of life-changing. Because no two cases are alike, it's important to allow our team to examine your smile to identify the problem areas and determine if you are a qualified candidate for Invisalign. Once we establish the various factors needed to create a personalized plan, we can then discuss how much you can expect to spend on your new smile. Of course, once you see your results, you'll understand why we have so many positive reviews from satisfied patients.
Factors that Affect the Cost of Invisalign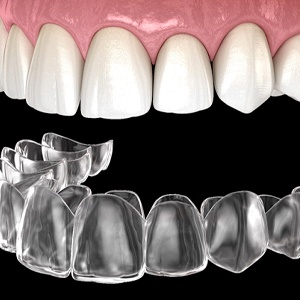 When meeting with your Invisalign dentists in Plano, Dr. Jones and Dr. Hanson will consider the following three factors before providing you with a cost estimate for your treatment:
If you require clear aligners for just the top arch, just the bottom arch, or both.
How severe your overcrowding, gapped teeth, or misaligned bite is. You can expect your cost to be lower if the problem you're experiencing requires minimal time to fix (i.e., addressing a minor gap between teeth is much easier and less time-consuming than realigning an overbite).
How long your treatment will last. Invisalign offers quick results but not ones that appear overnight, so you'll need to be patient, and if Dr. Jones or Dr. Hanson recommends a longer treatment time, you'll be required to wear additional aligners, which will add to your overall cost.
Invisalign vs. Smile Direct Club™: Which Costs More?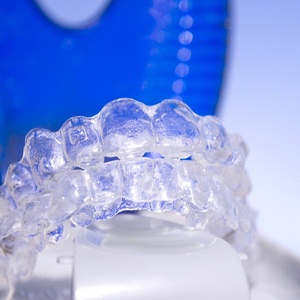 Are you contemplating Smile Direct Club instead of Invisalign? We know the cost is more appealing with Smile Direct Club only averaging about $2,000 versus Invisalign, which can run between $3,000 and $8,000, but have you considered the potential pitfalls that come with a DIY aligner system? Here are just a few:
You take your own impressions instead of allowing a trusted orthodontist to capture them. This can result in less accurate aligners that do not fit properly when worn.
You do not have an orthodontist overseeing your treatment, so if a problem occurs, you will not have someone to call.
You're left to navigate treatment on your own, so while things may appear "fine" to you, your teeth may actually be experiencing a serious problem.
With Invisalign in Plano, you can expect long-lasting, life-changing results. Not only is the process safe and effective, but you'll be more comfortable knowing that a skilled and licensed orthodontist is here to make sure you achieve the smile of your dreams.
Does Dental Insurance Cover Invisalign?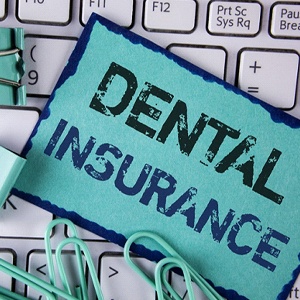 If you have dental insurance, you may be eligible to receive available coverage for your orthodontic treatment; however, some policies do have various exclusions, so you'll need to check with your insurer before starting treatment. Although traditional braces are covered up to 50%, your insurance company may or may not provide the same type of coverage for Invisalign. If you need help to get the necessary answers, our team will be happy to assist. We'll also file any paperwork and claims on your behalf. But don't forget! If you have an FSA (flexible savings account), you may be able to use your funds to pay for a portion of your Invisalign.
Options for Making Invisalign Affordable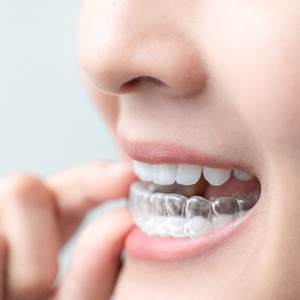 Uninsured? Feeling as if Invisalign is financial out of reach? Don't be! At Willow Bend Orthodontics of Plano, Dr. Jones and Dr. Hanson are pleased to offer patients in-house financing that makes it possible to achieve a straighter smile without emptying your savings account. By enrolling, you can easily manage your budget by agreeing to make monthly payments toward your Invisalign treatment.
Invisalign FAQs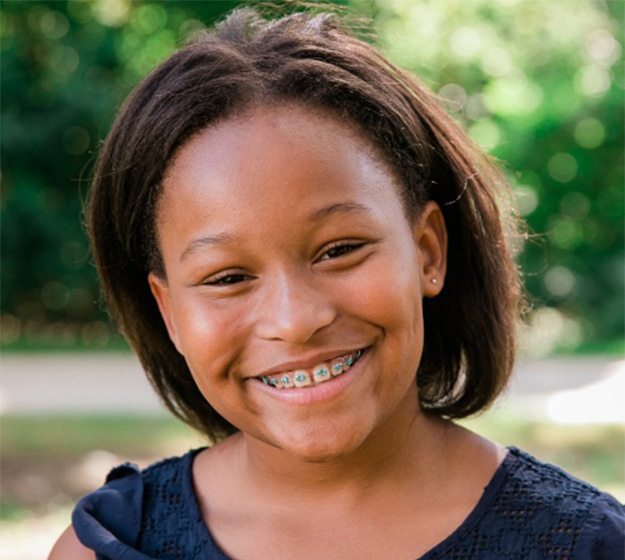 From the process and benefits to the cost, the above information is laid out to help you determine if Invisalign in Plano is right for you. With that being said, it's normal to still have a few questions on your mind. If you'd prefer to speak directly with our team about them, then don't hesitate to get in touch. On the other hand, if you'd like to do some more research online, then keep reading to learn the answers to a few of the most frequently asked questions we hear from patients.
How Long Does Invisalign Take?
That depends! On average, treatment with Invisalign lasts between 12 and 18 months, which is significantly shorter than traditional braces. However, the length of your treatment will depend on a number of factors, like how severe the orthodontic issue is and how good you are about wearing your aligners for 22 hours a day. Don't worry – our orthodontist in Plano will monitor how your teeth are tracking periodically throughout your treatment to ensure you're on track.
Does Invisalign Hurt?
To be honest, orthodontic treatment of any kind comes with some discomfort since your teeth are being shifted into an entirely new position. With that being said, Invisalign's clear aligners are designed for comfort, unlike traditional metal braces that irritate the soft tissue in your mouth. Plus, when feelings of soreness do arise (which typically happens after transitioning to a new set of trays), there are a few effective ways to alleviate the unpleasant sensation. For example, you can apply a cold compress to the outside of your cheek or drink cool water. Starting your new trays at night and taking OTC pain medication as directed are also helpful best practices.
What Happens After Invisalign?
Once you've worked through the entire series of aligners, you'll be given a retainer to preserve your hard-earned results. In addition to being much more comfortable than the ones used in years past, this oral appliance is often as discreet as the Invisalign trays, ensuring your new and improved smile isn't hidden away. To prevent orthodontic relapse, most patients can expect to wear them for 22 hours a day for the first six months after completing their Invisalign treatment. Once your teeth have "set," our orthodontist will give you the green light to slowly transition to wearing them solely at night.
What if My Invisalign Broke?
If one or both of your Invisalign aligners break, do not attempt to fix them with an at-home solution, like super glue. Not only will this damage your trays, but it's not safe to put in your mouth/ingest. Instead, get in touch with your orthodontist right away. Since they have an in-depth understanding of your treatment plan, they'll tell you what to do next. For example, if you are only a few days from starting your next set of aligners, they may tell you to use those. However, it's of the utmost importance that you don't make a crucial decision like this without consulting your orthodontist. This can derail your treatment, necessitating backtracking.