Orthodontic Emergencies – Plano, TX
Offering Immediate Care When a Crisis Occurs
If you've become accustomed to wearing your traditional braces, you're likely doing everything you can to avoid a potential problem. But even if you are careful when eating, cleaning, or engaging in physical activity, accidents can happen, resulting in orthodontic emergencies. At Willow Bend Orthodontics, our team is here to deliver timely care when you need it most. Whether you are dealing with a loose braces bracket, oral sores, or even stuck debris, we can provide helpful tips and immediate care to get you back on your feet and well on your way to a healthier smile. Contact us today to find out what we can do to help you in your time of need.
Why Choose Willow Bend Orthodontics for Orthodontic Emergencies?
Jones is a board-certified orthodontist with years of experience
Quick and timely treatment to help you avoid further delays
Improved comfort and patient safety
How Can I Avoid Orthodontic Emergencies?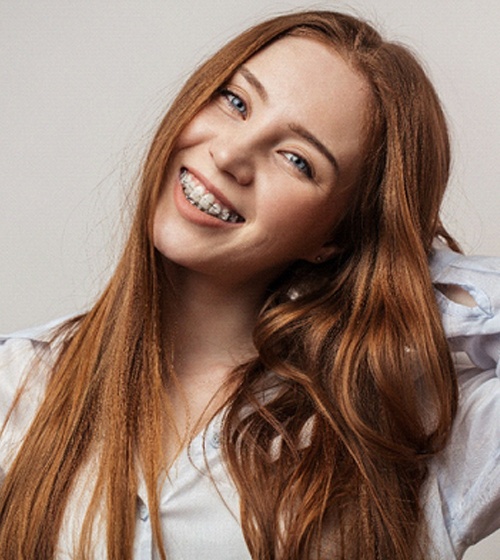 The most effective ways to avoid orthodontic emergencies include:
Staying away from hard, crunchy, or sticky foods, as these can damage your brackets, wires, and teeth. Whether it is causing a metal appliance to pop out of place or chipping a tooth, it's best to avoid these at all costs.
Keeping your teeth, gums, and braces clean with regular brushing and flossing. These morning and nighttime rituals will help prevent cavities and gum disease.
Wearing a mouthguard while playing any type of sport or engaging in physical activity. You should also wear one if you are prone to teeth grinding or clenching (bruxism).
Regularly see your dentist and orthodontist for follow-up visits to keep your smile healthy and your braces in optimal shape.
What Are the Best Ways to Care for Braces/Retainers at Home?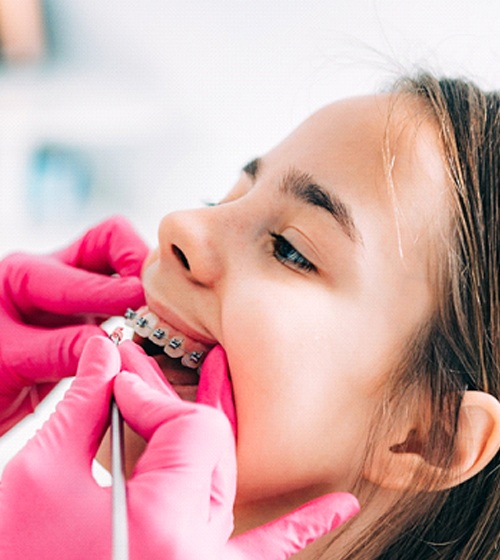 Want to minimize the potential for ortho emergencies? Dr. Jones and her team can provide helpful tips to remember when you are at home taking care of your changing smile. Some of these tips include:
Using a proxy brush can be helpful to clear around your brackets and underneath your wire. These specialized toothbrushes are a great way to reduce food particles and bacteria from adhering to the small crevices of your appliances and teeth.
Remembering to floss between your teeth after eating, as food can easily become stuck, causing an increased risk for tooth decay as well as potential discomfort.
Cleaning your retainer with a soft-bristled toothbrush and water to remove bacteria and food particles. It can also be helpful to soak your retainer in a denture cleaner.
Stuck Food or Debris
This is one of the most common occurrences you will face while wearing braces. Using a toothbrush or proxy brush can help remove debris and help you feel relief should you be experiencing any discomfort. Only if you cannot successfully remove the object with specialized dental instruments should you seek the help of your orthodontist.
Ligature Damaged or Fallen Off
Rubber bands, also known as ligatures, are commonly used to keep your wire firmly in place. Should one fall off, you can use tweezers to move it back into place; however, if it continues to fall off, your orthodontist will need to examine the problem area and determine how best to fix it.
Dental Pain or Discomfort
When first receiving your braces or having your wire tightened, you will likely experience some discomfort. Fortunately, this will dissipate within a few days. Taking an over-the-counter pain reliever and/or using a cold compress can help to alleviate some of the pain.
Oral Soft Tissue Sores, Irritation, or Inflammation
When wearing braces, you'll want to invest in dental wax, as this can be a great tool to use should your brackets or wires begin to rub against your soft oral tissues. At the start of treatment, your mouth will not be used to these new fixtures, so having wax can help alleviate the possibility of oral sores and irritation.
Loose/Poking Wires
Should a wire become loose and begin to poke your cheek or lip, you can use an eraser end of a pencil to push it back into place. If this does not work, it's best to contact our office and let our team take a look. In the meantime, simply apply dental wax to the area to cover it and keep the wire from irritating your oral tissues.
Loose Bracket
A loose bracket can occur if you bite into something hard or it endures excess pressure. If this happens to you and the bracket remains attached to the wire, dental wax can be applied to prevent tissue irritation. If the bracket falls off completely, make sure to retrieve it and bring it to your appointment. You'll need to call our office and schedule an emergency visit so Dr. Jones can administer immediate care to minimize the potential for delayed results.
Swallowed Piece of Appliance
Although extremely rare, it is possible to accidentally swallow a piece of your appliance. If you can see the piece in your mouth or throat, try to remove it. If you cannot and start to cough, do not wait to see us. Instead, get to a local emergency room for immediate medical attention.
Facial Trauma
It is important that you wear a mouthguard while wearing braces and playing sports. But if you should sustain facial trauma that results in damage to your braces, don't delay in contacting Dr. Jones and our team. We will work to get you in quickly and address the current problem. Should you face serious bleeding from the mouth that does not cease or sudden swelling, have someone take you to the emergency room as soon as possible.