Dentofacial Orthopedics – Plano, TX
No Need For Invasive
Bite Correction Surgeries
Dr. Jones and Dr. Hanson are able to do much more than align your teeth at Willow Bend Orthodontics of Plano, she's also able to fix the root problems of those issues by addressing the underlying bone that supports those teeth as well. Dentofacial orthopedics allow our team to correct severely misaligned bites without the need for invasive surgeries that have lofty recovery times. In addition to improving the overall function of your smile, we're also able to make the face appear fuller and more symmetrical. To find out more about dentofacial orthopedics in Plano, TX, schedule a free consultation with us today!
Why Choose Willow Bend Orthodontics of Plano
for Dentofacial Orthopedics?
Non-Invasive Alternative to Corrective Jaw Surgery
Board-Certified Orthodontist with 16 Years of Experience
Family-Owned &
Operated Orthodontic Office
What is Dentofacial Orthopedics?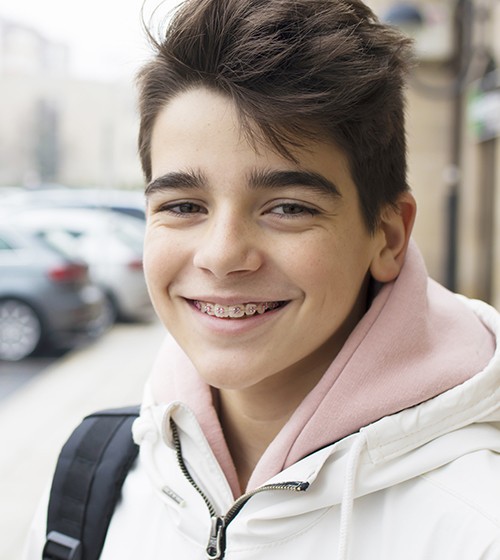 Although the name "dentofacial orthopedics" makes it seem like a complicated process, it's actually simple. If the supporting top and bottom jaw bones aren't in the proper position, the bite will never be aligned. Dentofacial orthopedics addresses this underlying issue by stimulating growth in one of the jawbones so the bite will come together, aligned. This treatment also offers many aesthetic issues as well, such as the pronounced appearance of an overbite or underbite. It's also less invasive and can erase the need for surgical procedures.
Dentofacial Orthopedics FAQs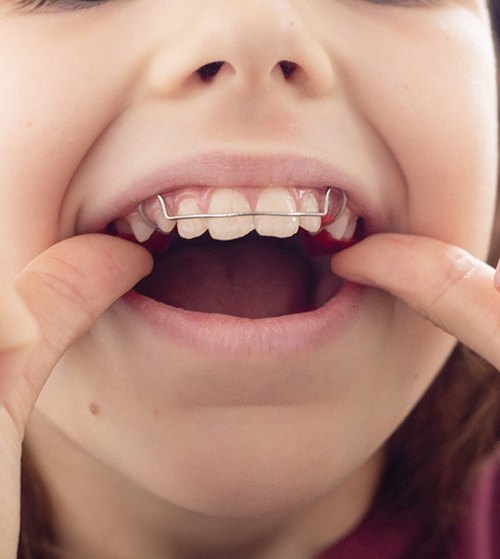 You only want the best for your child's long-term oral health, which is why having them undergo dentofacial orthopedics can be extremely beneficial for their smile. If you're unfamiliar with how treatment works or you want to help your child feel as confident about their care as possible, we understand that you may have questions. Please take a moment to look over some of the most common questions we hear below, as well as our detailed responses. If you have other concerns in mind, please let us know at your next appointment.
How long does treatment using dentofacial orthopedics take?
It's important to keep in mind that the length of treatment largely depends on the individual patient as every smile responds differently. Furthermore, if your child has more substantial complications that require attention, their treatment will take longer on average. With that said, you can expect your child's orthopedic care to take anywhere between 6 and 30 months, with the average treatment taking about 22 months. We'll break down a detailed timeline with you directly so you know exactly how to stay on track.
What's the difference between orthodontic and orthopedic?
Many people assume that orthodontic and orthopedic mean the same thing, but they are actually quite different. While orthodontic treatment refers specifically to movement of teeth to address misalignment, orthopedic treatment refers to improving the skeletal structure of your child's face and jaw. In cases like these, treatments like braces are not ideal for fixing these complex dental issues. We'll speak with you and your child directly to determine the best treatment options based on their needs.
What appliances are used for dentofacial orthopedics?
There are many orthopedic appliances out there today designed to change the rate, direction, or amount of jaw growth that occurs. While some are more common others, the options we may recommend include the following:
Palate expander – Slowly pushes cartilage above the upper jaw apart and widens the maxilla
Lower jaw expander – Gradually moves teeth apart to provide additional room
Activators – Moves the upper and lower jaws forward while guiding erupting teeth
Block – Uses the bite force to move teeth and correct malocclusions gradually and comfortably
Orthodontic headgear – Appliance that straps around the face, applies forces to the jaw and head, and corrects bite problems that can't be resolved from inside the mouth
Does my child need dentofacial orthopedics?
Children should receive an orthodontic evaluation by the age of 7 so that our team has time to prepare for their most dramatic dental development that's just around the corner. In fact, significant growth typically begins between the ages of 9 and 11. This makes it the most ideal time to begin dentofacial orthopedic therapy. During your child's consultation, we'll be able to determine if treatment can help them address specific complications. Notable signs your child may need treatment include if they have overcrowded or overlapping teeth, they lose baby teeth early, or they have a noticeable overbite.