Clear/Ceramic Braces – Plano, TX
Discreet Appliances With
The Same, Effective Results
If you're hesitant to commit to having a mouthful of metal brackets and wires, clear ceramic braces in Plano are a great option to provide you with the same trusted results, while being significantly more discreet. These utilize aesthetically-friendly material that won't have people remarking on your braces during every conversation. They're an ideal option for teens and adults who are looking to maintain their images in the workplace and at school. You can learn more by scheduling a free consultation today to discuss treatment with clear and ceramic braces in Plano, TX.
Why Choose Willow Bend Orthodontics
for Clear/Ceramic Braces?
Custom-Designed Treatment for Every Patient
Perfect for
Adults & Teens Alike
Board-Certified Orthodontist with 16 Years of Experience
What Exactly Are Clear/Ceramic Braces?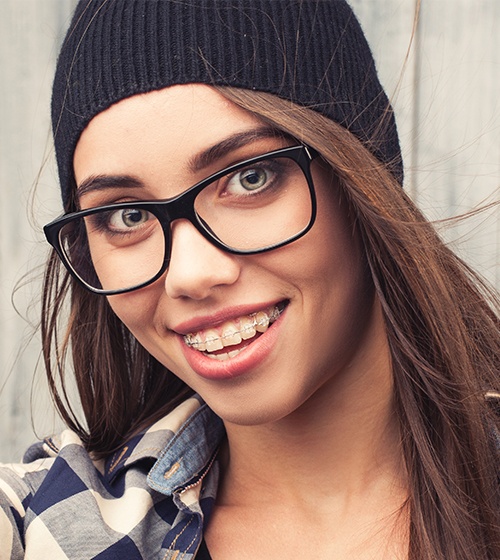 Clear ceramic braces are very similar to traditional braces—the main difference is that they use materials that blend-in with the rest of your smile instead of metal. Thin, tooth-colored wires help align each of your teeth into their ideal positions and are held in place by clear brackets. The brackets are also able to lay flatter against your teeth, making them less bulky and cumbersome. They provide the same, effective, and beautiful results as traditional braces without all of the aesthetic downsides.