Invisalign for Adults – Plano, TX
Achieve a Straighter Smile
Traditional braces are an excellent way to correct bite issues and achieve a straighter smile. However, many adults would prefer to complete orthodontic treatment without showing off a mouthful of brackets and wires. Fortunately, Invisalign is an effective, more subtle option when it comes to correcting misaligned teeth. Using a series of clear aligners, Invisalign slowly shifts the teeth into their rightful locations. The best part is that it is very difficult for others to detect your aligners, so you can continue smiling with confidence! To learn more about Invisalign for adults or to schedule a consultation with us, give us a call.
Am I a Candidate for Invisalign?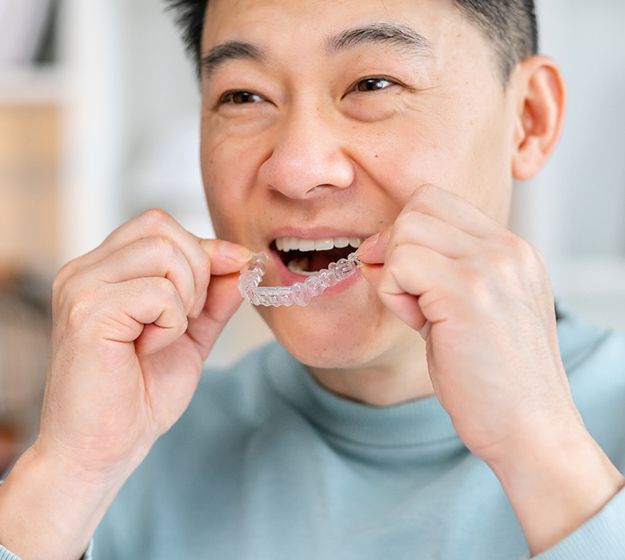 The majority of adults are candidates for Invisalign. This treatment can address a wide range of alignment issues. This includes:
Small gaps
Crooked teeth
Crowded teeth
Overbites
Underbites
Before you can begin treatment, you must attend a consultation. During this time, your orthodontist will closely examine your smile to ensure that you make a good candidate and your smile is in good health. If you have any tooth decay or gum disease, this will need to be addressed before you can move forward in the Invisalign process. Your oral health is our number one priority.
What to Expect During Treatment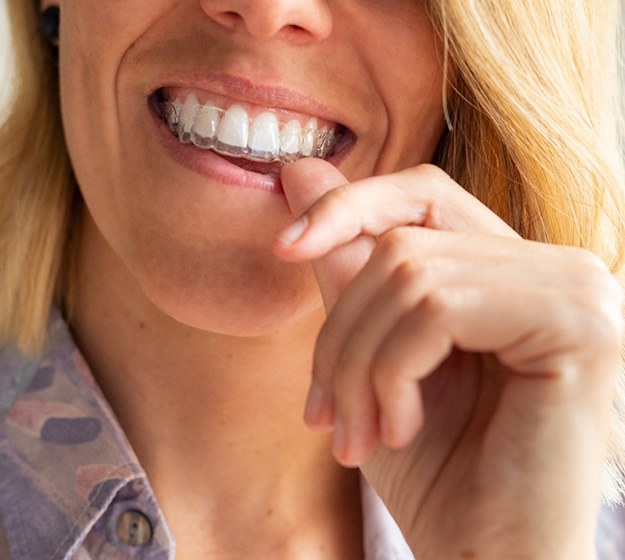 Once we determine that you make a good candidate for Invisalign, digital impressions can be taken of your smile. This is then sent to an Invisalign lab where your trays will be custom-made just for you. Depending on the severity of your misalignment, a certain number of trays will be required so you can achieve the results you're looking for.
The lab will mail your trays to our practice. Then, you can visit our office, and we will give you instructions on how to place and care for your clear aligners. Everyone's treatment looks a little bit different, but generally speaking, you will need to wear your aligners for at least 22 hours every day and visit us periodically for checkups. Nothing needs to be "tightened," like traditional braces, but we will want to check up on your smile to make sure everything is progressing as planned.
Benefits of Invisalign
for Adults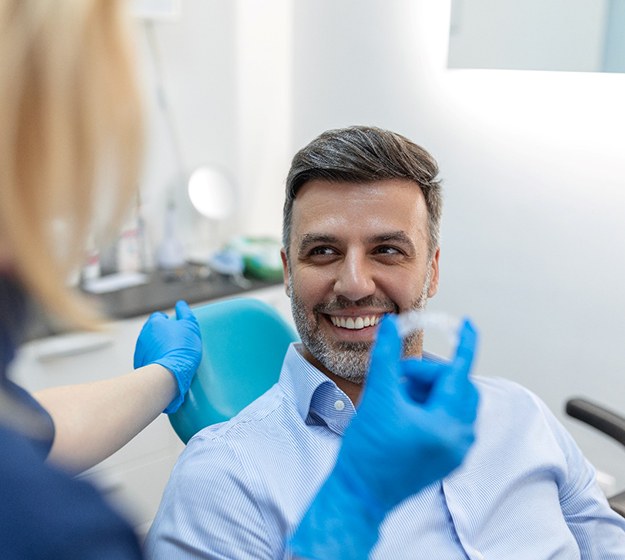 There are numerous benefits you can experience by opting for Invisalign to straighten your smile. Here are just some of the most prominent:
Difficult to Detect: Invisalign aligners are very difficult to notice. Many adults are reluctant to undergo orthodontic treatment because they don't like the appearance of metal brackets and wires. With Invisalign, no one will be able to tell that you are wearing aligners.
Comfortable: Invisalign uses smooth plastic, so nothing will poke up against your lips and gums.
No Eating Restrictions: When mealtimes come around, the Invisalign aligners should be removed. This means that you don't need to restrict your diet to accommodate your treatment. Just remember to thoroughly brush and floss before putting your aligners back in.
Beautiful Results: Despite not using metal brackets and wires, Invisalign provides you with the same beautiful results!
Maintaining Invisalign Clear Aligners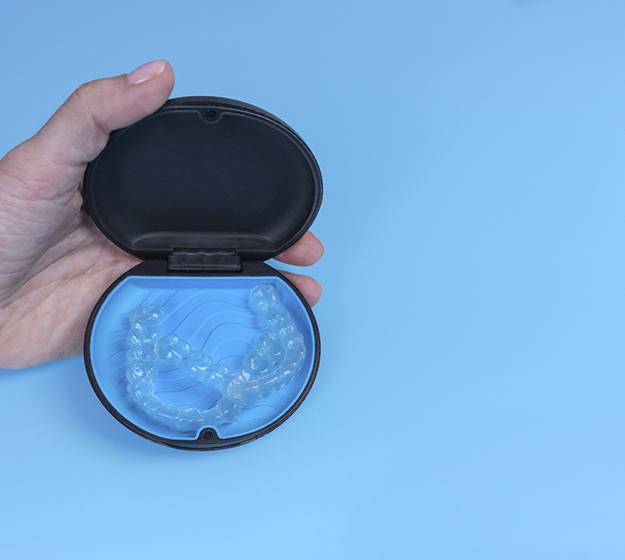 Maintaining your aligners is relatively straightforward. We will give you more thorough instructions during your visit with us, but here is what you can generally expect:
Using a toothbrush and warm water, gently brush your aligners before bed and after waking up to keep them fresh.
Don't use toothpaste to clean your aligners – this can leave a white film over the trays.
Remove your aligners before eating and keep them in your Invisalign case.
After meals, brush and floss your teeth before putting them back in.