Orthodontic Appliances – Plano, TX
We Offer More
Than Just Braces
Orthodontic care doesn't just involve braces and retainers. Dr. Jones and Dr. Hanson use a wide variety of specially-crafted appliances that are made in-office to promote a healthier and more beautiful smile for patients of all ages. We offer thumb cribs, expanders, and retainers to help tailor your treatment to provide premium results. To learn more about the different orthodontic appliances in Plano, TX that we offer for children and adults, contact our orthodontic office today!
Why Choose Willow Bend Orthodontics of Plano
for Orthodontic Appliances?
Board-Certified Orthodontist with 16 Years of Experience
Putty-Free iTero Digital Impression System
Appliances Made
In-House with 3D Printer
Our Available Orthodontic Appliances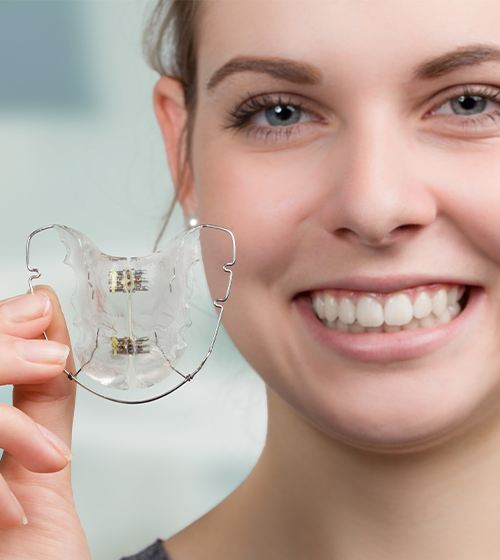 Using our in-office 3D printer and precise digital impression system, we can craft several helpful orthodontic appliances, including:
Fixed or Removable Retainers: After an orthodontic treatment, retainers ensure that your newly adjusted teeth don't shift out of place.
Palatal Expanders: Sometimes, the roof of a child's mouth (or hard palate) can be so narrow that it prevents the upper teeth from coming in correctly, leading to crowding. Our expanders provide a lasting solution to crowded teeth by creating more space for your child's adult teeth to grow in straight.
Thumb Crib: Does your child constantly suck their thumb? Our thumb crib can help them break the habit completely.
These are only a few of the many appliances that we can offer to provide you with optimal orthodontic results!