Braces for Teens – Plano, TX
Transforming Your Teen's
Oral Health and Confidence
Is your teenager feeling self-conscious about their smile? They're not alone. Many teens worry about the perception of their crooked smiles. As such, seeking orthodontic treatment might be something they're interested in. That's great news because the benefits of braces extend beyond aesthetics! A straighter smile isn't just visually appealing – it can also help prevent oral health problems down the road. If you'd like to find out how we can help your teen embrace greater confidence, simply keep reading or give our office a call today.
The Importance of Early Orthodontic Care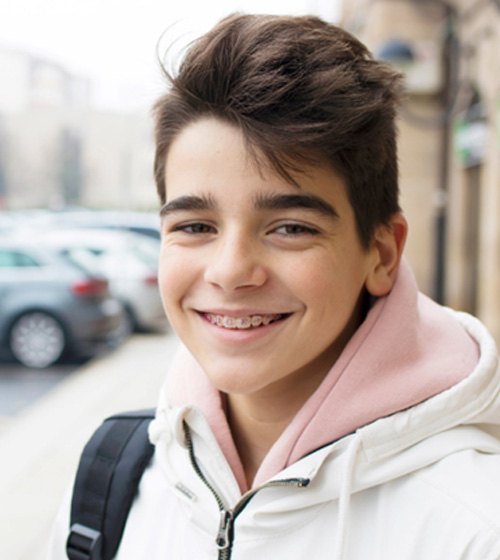 Getting orthodontic care for your teen at an early stage is a proactive measure to prevent potential long-term issues in development, mental well-being, and overall health. Given the strong connection between the mouth and body, our team diligently tracks your teen's bite changes as they grow. This ensures they maintain normal daily oral functions. Failing to seek treatment can negatively impact their confidence, physical appearance, and oral health.
Orthodontic Treatment Options for Teens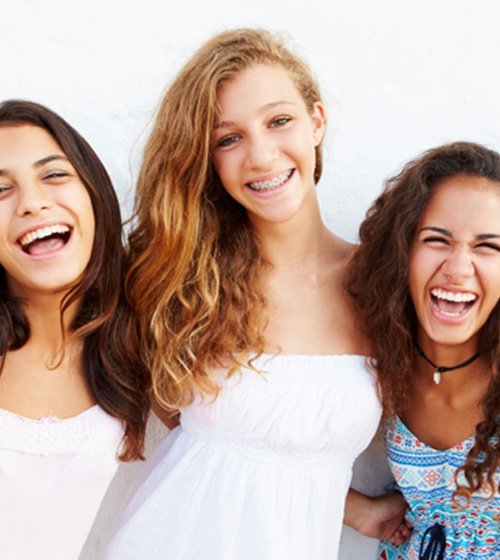 At Willow Bend Orthodontics, we're happy to offer several exceptional options for teenagers. During a personalized consultation, our team will thoroughly discuss these choices, helping you determine the ideal fit for your teenager's needs.
Traditional Braces
Using metal wires and brackets, traditional braces stand as the gold standard in orthodontic care. Their effectiveness in resolving complex dental issues makes them suitable for both teens and adults. Applying constant pressure to teeth, they guide them into proper alignment over time, resulting in a healthier and more beautiful smile. Whether your teenager is dealing with misalignment, gaps, or overcrowding, or requires assistance with correcting an overbite, underbite, crossbite, or open bite, traditional braces are a great way to achieve optimal results.
Clear Ceramic Braces
Functioning similarly to metal braces, ceramic braces offer a distinct advantage: their brackets are crafted from a translucent ceramic material. This results in a less noticeable appearance that blends seamlessly with your child's teeth. While ceramic braces carry a higher cost and require diligent maintenance to prevent staining, they're an excellent option for teens seeking to avoid the glare of traditional metal braces.
Invisalign
For a more discreet alternative, Invisalign is the way to go. Crafted from transparent plastic, these clear aligners seamlessly adapt to your teenager's evolving smile. Since they're virtually invisible, they help teenagers feel less self-conscious about their appearance. The trays are typically worn for 1-2 weeks at a time, and your teen will replace them with a new set in the series, gradually progressing treatment.
Benefits of Getting Braces as a Teen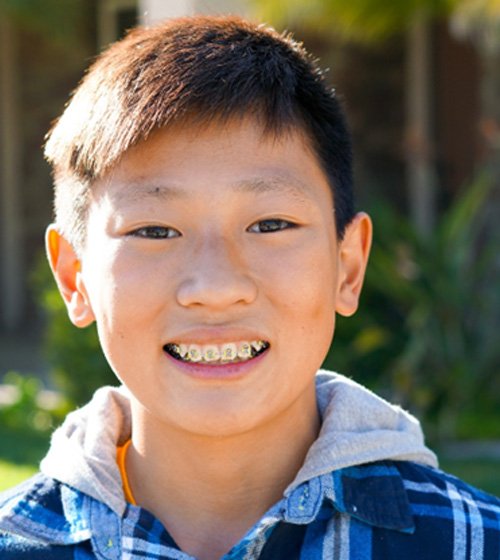 There are many benefits to your child straightening their teeth during their teenage years. Here's why getting braces as a teen is a smart choice:
Efficient Results – The teeth are still growing, allowing for quicker and more effective alignment.
Confidence Boost – Achieving a beautifully aligned smile enhances self-esteem during crucial adolescent years.
Discreet Options – With clear aligners or tooth-colored braces, teens can align their teeth discreetly.
Healthier Future – Proper alignment reduces the risk of oral health issues, setting the stage for lifelong well-being.
Easier Care – Teens adapt faster to oral care routines, ensuring better maintenance of braces.