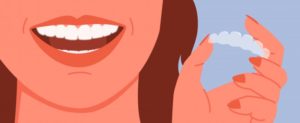 Sure, Invisalign treatment has several benefits that far outweigh those of traditional metal braces. But if you neglect to follow the basic cleaning and maintenance rules, you can make the treatment ineffective and miss out on some of those benefits. Find out which four actions can ruin your treatment plan and tips to maintain your aligners.
Using Harmful Ingredients to Clean Your Aligners
Avoid cleaning your Invisalign trays with bleach or strong-colored and scented soaps. Bleach is a very harsh substance that can degrade your plastic aligners and ruin them. Additionally, colored and scented soaps can leave residue on your trays, resulting in long-term discoloration with excessive use. It may even give them an unpleasant taste. Keep your aligners in good shape by only using Invisalign-friendly cleaners!
Eating or Drinking with Your Trays In
One rule you must always follow is to remove the trays before eating or drinking anything that's not water. Otherwise, you could damage or discolor them and put your oral health at risk. Food particles can get stuck between the aligners and your teeth, leading to decay and cavities if not removed properly.
Leaving Your Trays Out in the Open
Always put your trays in their designated case to prevent loss and damage! They're more prone to bacterial buildup when exposed to open air. Plus, they can easily get misplaced since they're virtually invisible. Avoid these incidents by carrying your case with you every time you head out. If you accidentally left your aligners out, rinse and clean them thoroughly before slipping them back into your mouth.
Drinking Anything Other Than Water
Water is the only beverage you should drink when wearing your clear aligners, as other beverages can affect your treatment. For example, hot drinks can distort the plastic material and misshape your trays. And when consuming sweet beverages, the liquid or sugar can get trapped in between the aligners and your teeth, increasing your chances of tooth decay. Colored drinks are also likely to stain your trays over time, making them noticeable to others and defeating the purpose of discreet treatment.
Tips to Maintain Your Clear Aligners
Here are some ways you can keep your Invisalign clear aligners in optimal condition:
Clean the aligners every day. Use a soft-bristled toothbrush and toothpaste to clean the inside and outside of each aligner. Make sure your aligners are clean before wearing them.
Brush and floss before putting trays back in your mouth. You should also make sure your mouth is clean before slipping the trays back into your mouth. Ideally, you should brush or floss after every meal and snack. However, if you don't have floss or a toothbrush on hand, you can rinse your mouth thoroughly to wash away food particles and bacteria.
Soak the aligners at least once a day. Soak your trays in Invisalign cleaning crystals or a denture cleaner once a day to keep them clean. After soaking for about 15 minutes, use a toothbrush to remove any lingering food or plaque.
Taking good care of your aligners is critical to assure effective Invisalign treatment and maintaining good oral health. Now that you know Invisalign dos and don'ts, you can stay on track and achieve a perfect, straight smile in no time!
About the Author
Dr. Tamara Jones earned her dental doctorate from Texas A&M and went on to complete her master's and Certificate in Orthodontics from The University of Texas at Houston. She is a member of the American Dental Association and a Diamond Status Certified Invisalign Provider (top 1 percent in America). If you are interested in Invisalign treatment, she has 16 years of experience in orthodontics and zero percent in-house financing is available. Schedule a consultation on her website or call (972) 732-1400.